Common Injury Symptoms After a Car Accident
Common Injury Symptoms After a Car Accident
Written By Reyna Chiropractic Clinic on January 27, 2020
---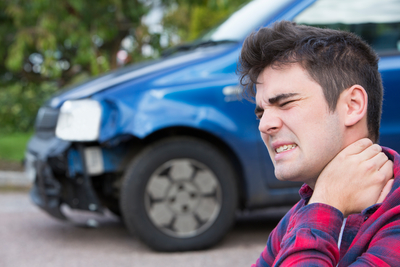 Accidents happen to the safest of drivers. Even the most minor accident can cause injuries that may not initially show symptoms. While some auto accident victims may feel pain, stiffness, or sustain more noticeable injuries, other victims may develop symptoms in the hours, days, or weeks after an accident.
According to the Association for Safe International Road Travel, 2.35 million people are injured or disabled each year in the United States due to a car accident. Statistics have shown that motor vehicle accidents make up for 37 percent of chronic neck and back pain cases. However, auto injury treatment helps patients heal faster and avoid further complications, including chronic pain and stiffness.
3 Common Car Accident Injuries
Here are the three most common injuries that victims sustain after a car accident.
1. Back Pain
Back pain is one of the most common injuries suffered in car accidents. Back pain after an accident can be a symptom of several conditions, including herniated discs, spinal injuries, sprains, and whiplash. All of these issues can cause a loss in the range of motion and debilitating pain.
2. Neck and Shoulder Pain
Neck and shoulder pain are common symptoms of whiplash. Pain may begin as stiffness in your shoulders, neck, head, or back. Fortunately, a car accident treatment can help reduce stiffness and pain by targeting injured areas at the source.
3. Headaches
Persistent or frequent headaches can signal injuries to your head, neck, back, and more. While headaches can appear minor, it is important to seek treatment right away to evaluate and treat any injuries you may have sustained in the accident.
Car Accident Treatment in Fresno at the Reyna Chiropractic Center
Dr. Jamie Reyna is a licensed chiropractor that has been serving the Fresno, CA community since 1985. Dr. Reyna provides auto injury treatment using the best hands-on-techniques and physiotherapy procedures to reduce chronic pain and get patients on the road to recovery.
Were you in an auto accident? Don't wait. Contact us right away to schedule auto injury treatment at (559) 225-2859. Same-day appointments are often available if you call the office before your visit.

Posted In: Chiropractic Auto Injury Treatment Whiplash Treatment Chiropractic Treatment