Reyna Chiropractic: More Than Chiropractic Care
Reyna Chiropractic: More Than Chiropractic Care
Written By Reyna Chiropractic Clinic on June 8, 2021
---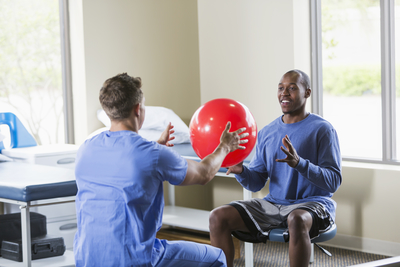 A lot of chiropractic offices now support professional medical services that extend beyond chiropractic care. More and more research shows the benefit of pairing chiropractic with other mediums of care, like massage and physiotherapy, to help adjustments hold, last longer, and be more effective.
Dr. Jaime Reyna has worked in Fresno, CA to free patients from pain since 1985. As an experienced chiropractor, he's committed to promoting the health and wellbeing of every patient. The sooner you start chiropractic treatment for your back pain, the sooner you can start feeling better.
Reyna Chiropractic Offers 4 Physiotherapy Services
E-Stim - Electrical stimulation (e-stim) is a physiotherapy that mimics cell signaling. It's used for muscle recovery by triggering contractions shown to improve blood flow and promote healing. E-stim also can block pain receptors, providing swift pain relief.
There are various forms of e-stim therapy. Reyna Chiropractic will assess your health needs to determine the best form for you.
Ultrasound Therapy - Widely successful since the 1950s, this physiotherapy treats mostly musculoskeletal problems, like inflammation from injury. Ultrasound therapy is shown to promote tissue healing and increase blood flow.
Manual Traction Therapy - This is a hands-on physiotherapy where a chiropractor manually guides your spine through decompression. It's able to treat bulging and herniated discs, sciatica, spinal stenosis, disc degeneration and degenerative joint disease. It's also a great form of health maintenance to help prevent related issues.
Flexion/Extension - Flexion and extension are opposite movements that help physiotherapists identify where an injury is and the source of your pain. With said information physiotherapists can guide patients through strengthening movements that'll help alleviate pain.
We teach our patients an at-home exercise routine customized to their unique needs. The exercises are designed to improve outcomes, including spinal manipulations, by as much as 30-40%.
Well-Rounded Chiropractic Care in the Fresno Area
Dr. Reyna treats the body as a whole when caring for his patients. He combines the very best hands-on-technique, physiotherapy procedures, and the best whole food supplements on the market. Through these three approaches, Dr. Reyna is able to help you achieve and maintain great health.
Have questions or need to schedule an appointment? Call Reyna Chiropractic at (559) 225-2859 or go online and fill out our contact form.

Posted In: Chiropractic Chiropractic Treatment